Custard Halwa | Custard Halwa Recipe | Custard Powder Halwa Recipe
Custard powder halwa is also known as Karachi Halwa.We make halwa in many ways but this way of making it is very unique. It is prepared in less than 5 minutes
Custard halwa is an easy and quick dessert that can be prepared very easily and quickly.
Vanilla custard powder, sugar, cashew, and ghee are used in it. It is the best option for sweet dishes. Cashew, kesar leaves, and pista enhance its taste. It can be stored for 7-8 days .
Children like it very much as it is a mouth-watering dish. Custard powder halwa has low calories and fats.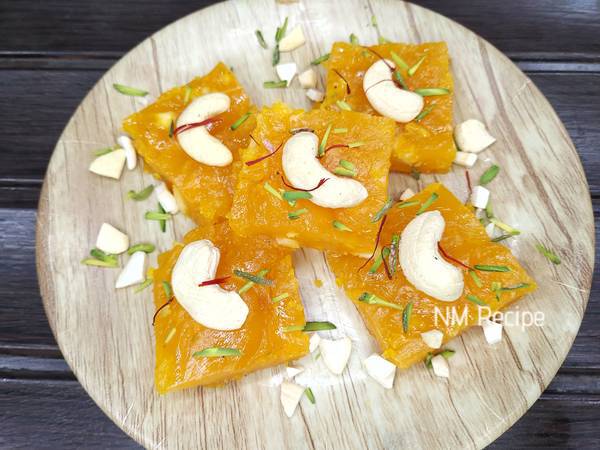 Ingredients (10-12 pieces)
Vanilla custard Powder – ½ cup(125g)
Sugar – 1 cup(250g)
Water – 1 cup(250ml)
Cashew, tukda – 1 tablespoon
Ghee –  4 teaspoon
Cardamom powder – ¼ teaspoon
Kesar leaves – 10-12 leaves
Cashew and pista pieces for garnishing
If you want to make Custard Halwa in large quantity, keep in mind that for ½ cup of Vanilla Custard Powder you should take 1 cup of Sugar and Water each.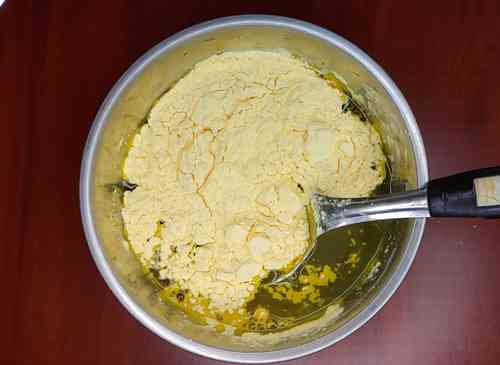 Add 1 cup of water at room temperature in a bowl.

Add 1 cup of sugar, ½ cup of custard powder, and 10-12 leaves of kesar to it.
Mix it slowly and slowly to make a batter.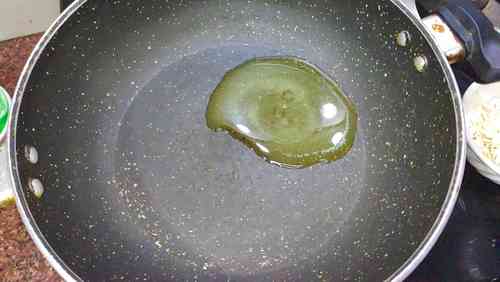 Pour 2 teaspoons of ghee in a pan on medium flame.
Add 1 tablespoon of cashew(tukda) and saute for 1 minute on medium flame.
When cashews change their colour, add batter on low flame and keep stirring it continuously to avoid lumps.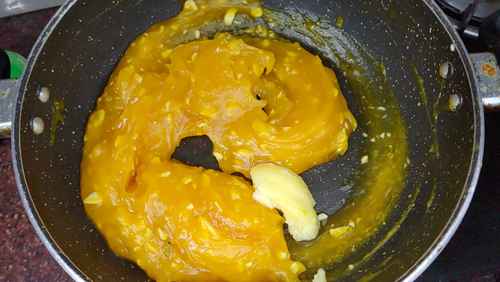 When the halwa gets thick, add 2 teaspoons of ghee to it and mix it very well.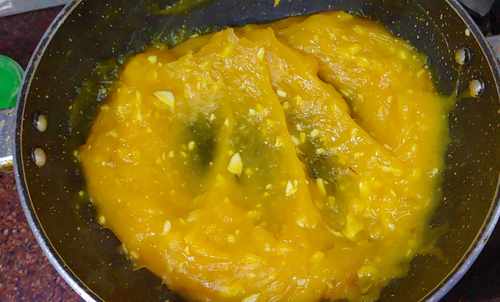 Now, when the batter releases ghee after about 2-3 minutes and halwa appears to be transparent as shown then switch off the gas.
Add ¼ teaspoon of cardamom powder.
Custard halwa is ready to be served.
Method-1: Take a small bowl and pour the halwa into it. Press the halwa slightly with the help of a spoon. 
Take a plate and turn this small bowl having halwa over it. In this way, the halwa will get the shape of the bowl. Garnish with cashew and small pieces of pista and serve.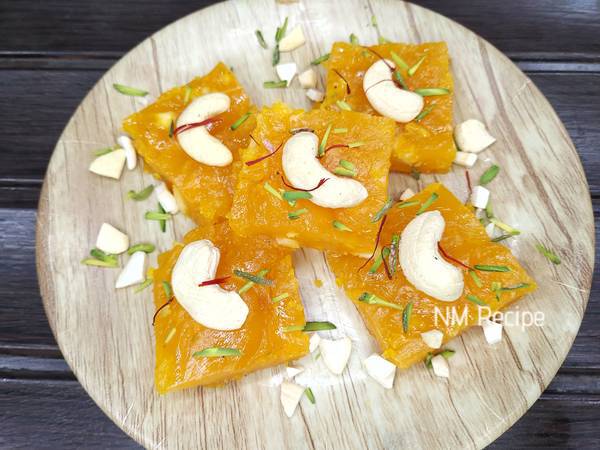 Method -2: Take a tray and grease it with ghee. Pour the halwa over the tray and spread the halwa evenly. Garnish with cashew and small pieces of pista.
After one hour, cut the halwa with a knife in the shape of burfi and serve.  
Subscribe to our mailing list and get every new recipes directly to your mail box
Custard Golden Halwa Recipe Tips
The custard halwa can be stored in the refrigerator for one week.

Kesar leaves may be added to enhance their taste.

Do not use warm water for the preparation of the batter.

While preparing the batter, it should be continuously stirred to avoid lumps.