How to make Idli Sambar | Rava Idli Recipe | Sambar Recipe
Rava idli is a simple and healthy South Indian dish that is very popular in India.
It can be served in breakfast, lunch or dinner. Rava idli can be prepared very easily and quickly. Rava is also known as Suji (Hindi) or Semolina (English).
Rava idli is easy to digest. It is an instant recipe that can be prepared without grinding and fermentation. Rava idli is prepared in an idli stand with sooji, eno, salt, chana dal, and curd.
I have prepared this recipe in a special way by using rai for tadka in the batter. I have also used chana dal in the batter. This is the USP of my dish.
Rava idli is served with sambar or coconut chutney.
Sambar is the most popular south Indian dish. It is a nutritious tasty dish which is very useful to our body. Sambhar is eaten with idli, dosa, vada, or plain rice.
It can be served for breakfast or dinner. Sambhar is prepared with arhar dal, some vegetables, spices, and sambhar masala.
Imli is added to enhance its taste. Tadka of rai and meetha neem(curry leaves) is added to enhance its taste.
So here is step by step Idli Sambar Recipe –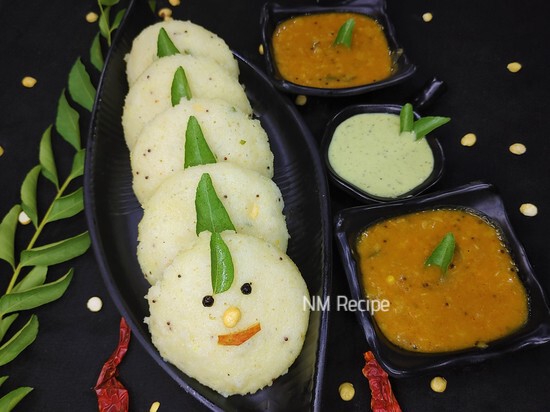 Arhar Dal (Pigeon Pea or toor dal) – 1 cup

Pumpkin(Kaddu) – 100g

Capsicum – 1 piece

Brinjal – 1 piece medium size (optional)

Green chilli – 1 piece

Imli – 5-6 pieces

Water – 2 ½ cup

Meetha Neem(curry leaves) – 12-15 pc

Mustard Seeds(Rai) – 1 teaspoon

Turmeric powder – ½ teaspoon

Sambhar Masala – 4 teaspoon

Hing – ½ teaspoon

Salt – 1 teaspoon or as per taste

Red Chilli powder – 1 teaspoon

Dry Whole Red chilli(sabut) – 1 piece

Oil or ghee – 1 tablespoon
Ingredients for Rava Idli
Sooji (Semolina) – 2 cup or 500g

Curd – 1 cup or Buttermilk – 2 cup

Salt – 1 teaspoon or as per taste

Rai (Mustard seeds) – 1 teaspoon

Chana Dal – 1 tablespoon (Optional)

Edible Oil or ghee – 4 teaspoon

Eno or baking soda – 3 teaspoon

Water – as per requirement

Idli Stand – 1
Prepare a batter by mixing 500g or 2 cups of sooji in 1 cup of curd (or 2 cups of buttermilk).

 Add 1 tablespoon of chana dal and salt as per taste.

Add water in it as per requirement such that it becomes a paste of running consistency. 

Keep aside this mixture for 15 minutes.

After 15 minutes, check the batter. It should have a medium consistency. 

If the batter looks thick, then add 1 to 2 tablespoons of water to get a medium consistency.
For Tadka, heat 2 teaspoons of ghee or oil in a small frying pan. Add 1 teaspoon of rai (mustard seeds).

Let them sputter.

 

Pour this tadka over idli batter and mix well.
Pour 1½ glass of water into the steamer.

Cover the steamer with a lid and place it on gas on high flame.

Heat the water till it comes to a boil.
Now

brush oil or ghee on the idli pan moulds.

Pour some batter in another bowl that is required for the idli stand at a time.

Pour one teaspoon of eno or baking soda over this small quantity of batter.

Pour ½ teaspoon of water over eno for better fermentation.

Mix the batter well and place immediately in idli moulds of idli stand.

Do not rest the batter.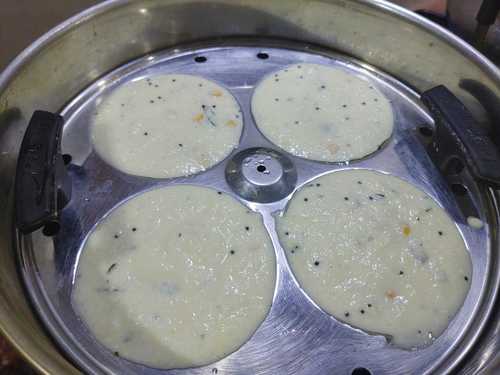 Place this idli stand in boiled hot water of the steamer on high flame for 10 minutes and cover it with a lid.
After 10 minutes, insert a toothpick or knife in a rava idli.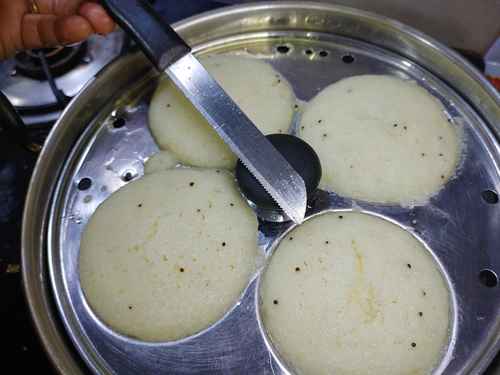 If the toothpick or knife inserted in the rava idli comes out clean means that the idli has been cooked properly. Otherwise, cover again with lid and cook for 5 more minutes.

Remove the idli plates carefully and let them rest for 3 to 4 minutes. 

Grease a spoon with ghee or oil and remove the Rava idli from idli moulds with the help of this spoon.

Again repeat the procedure to make more idli by adding eno in the remaining batter.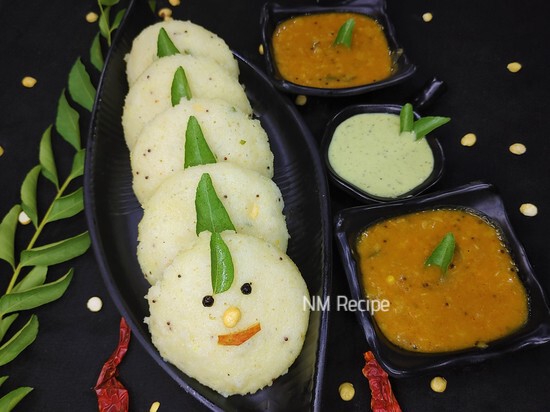 Rava idli is ready to be served.

Serve idli with sambar, coconut chutney, green chutney, or tomato ketchup.
Using eno makes idli fluffy and soft.

Eno should not be mixed in the whole batter. Mix eno in such a quantity of batter that is required for one time idli stand.

Apply ghee or oil in idli moulds before pouring idli batter in moulds. In this way, idli can be removed easily from moulds.

Rai tadka and chana dal increase its taste and make it look good.

Idli should not be removed from moulds immediately. It should be removed after 3-4 minutes.

Idli stand should be placed in boiled hot water in the steamer.

Add eno in the batter only when water in the steamer has boiled so as to make idli fluffy.

Eno is preferable instead of baking soda.

The idli batter should be of medium consistency otherwise idli will not be soft and fluffy.
Soak arhar dal in water for 15 minutes.

Chop pumpkin, capsicum, and green chilli.

Peel out the brinjal and chop and soak it with water.

Break the whole dry red chilli into two pieces.
Preparation of Imli Water
Wash imli with fresh water 3-4 times and remove seeds, if any.

Soak imli in lukewarm(gunguna) water in a bowl for 15-20 minutes, then pour it into a mixer and make a fine paste or pulp.  

Transfer this pulp into a soup strainer(sieve) and strain it.

Dis

card the residue left in the strainer.

Imli water is ready.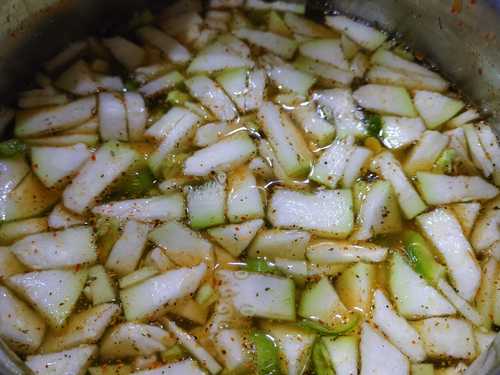 Wash soaked arhar dal in freshwater 4-5 times.

Place dal in a cooker with 2 ½ cup water, ½ teaspoon of turmeric powder, 1 teaspoon of salt, 3 teaspoons of sambhar masala, chopped pumpkin, chopped brinjal, chopped green chilli, and chopped capsicum.

Place the cooker on a high flame for 6-7 whistles.
Cool down the cooker and mesh with a whisk.

Add 2 tablespoons of imli pulp to the cooker. 

You may adjust the consistency of sambhar as per your choice by adding water.

Taste the sourness and salt of the mixture at this stage. Imli water increases sourness.
Preparing Tadka for Sambar
For Tadka, heat 1 tablespoon of oil or ghee in a frying pan. Add hing and rai.

Let them sputter.

 

Add meetha neem(curry leaves) and 2 broken pieces of dry whole red chilli. Fry it on low flame for 30 seconds. Add 1 teaspoon of red chilli powder and 1 teaspoon sambhar masala.
Immediately mix it with sambar and cover the cooker with lid for a minute to prevent odour of masala.

Cook the above mixture on a medium flame for one boil (at least 5 min) without a cooker lid. Keep stirring it.

Note:

Alternate method – cover the cooker with lid and take 2 whistles on high flame.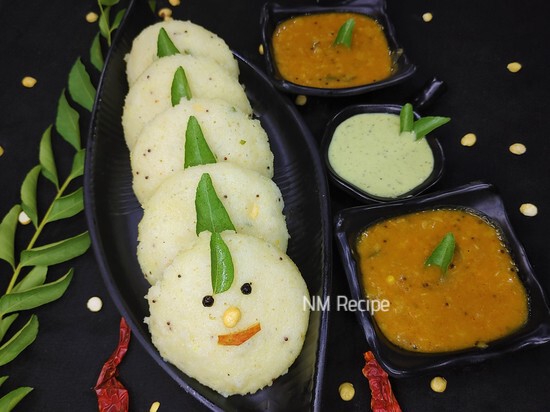 Serve the hot sambar with idli, dosa, vada, or plain rice.
You may use lemon in place of imli water. (But imli water gives better taste in sambhar.)

Soaking brinjal in water immediately after chopping prevents it from becoming black.

Make sure that no seeds remain in imli.

You may also add some other vegetables like bottle gourd(lauki), onion and drum sticks, etc.