Khasta Kachori | Dal ki kachori | Moong ki dal ki Kachori | Dal ki Kachori Recipe
There are many types of kachori but the most popular kachori is moong dal kachori.
Dal Kachori is a veteran North Indian spicy dish. It is a lip-smacking dish.
It may also be served as breakfast or an evening snack. It is prepared with maida(fine wheat flour), sooji, moong dal, and spices.
Moong dal ka masala is stuffed in maida dough and it is then deep-fried.
       For Masala

Moong ki dal – 150 g

Besan – 2 tablespoon

Oil – 2 tablespoon 

Cumin seeds – ½ teaspoon

Ginger, grated – 1 teaspoon (or dry ginger – ½ teaspoon)

Green chili, finely chopped – 1 teaspoon

Salt – ½ teaspoon or as per taste

Black salt – ½ teaspoon

Cumin, roasted powder – ½ teaspoon

Black Pepper powder – ½ teaspoon
Red chilli powder – 1 teaspoon

White Pepper powder – ¼ teaspoon

Fennel(saunf), crushed – 1 teaspoon

Coriander seeds, crushed – 1 teaspoon

Turmeric powder- ¼ teaspoon

Heeng – ¼ teaspoon

Chat Masala – 1 teaspoon

Dry Methi Powder(Kasuri Methi) – 1 teaspoon

Dry Mint Powder – ½ teaspoon

Garam Masala – ¼  teaspoon

Dry Mango powder – ½ teaspoon

Baking Soda – ¼ teaspoon

Oil for frying
       For Dough
Maida – 100g 
Wheat flour – 100g
Sooji – 50g
Salt – ½ teaspoon or as per taste
Celery(Ajwain) – ¼ teaspoon
Oil or ghee for moin – 2 tablespoon
      Initial Preparation
Soak moong dal in water for 2-3 hours. Take water 3 times the quantity of moong dal for soaking.
After 2-3 hours, wash moong dal with water 3-4 times or until the water runs clear.
      Preparing Kachori Masala
Heat 2 tablespoon oil in a kadai. Add hing and cumin. Let them sputter.
Add ginger and green chili on low flame and fry it for 30 seconds.
Pour moong dal, salt, and turmeric powder in a Kadai and mix very well.
Add 2 tablespoon water to the mixture.
Cover the mixture with a lid and keep the flame low.
Cook until moong dal becomes soft and slightly mushy. You can mash it with a spoon and check.
Mix besan in moong dal and cook for 2 minutes.
Add black salt, roasted cumin powder, black pepper powder, white pepper powder, red chili powder, crushed fennel, and crushed coriander seeds and mix well & cook for 2-3 minutes.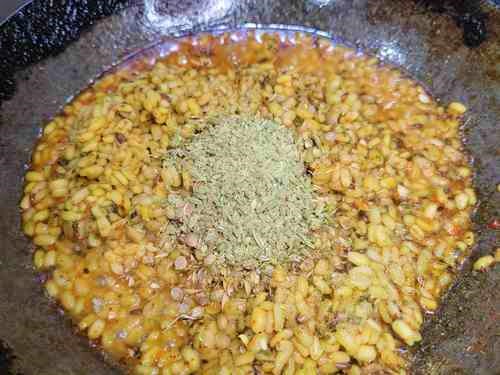 Now add garam masala, kasuri methi, dry mint powder, chat masala, and dry mango powder and mix well and cook for 2-3 minutes.
Turn off the gas and cool down the mixture.
Add baking soda to the mixture and mix properly.
You can taste the masala at this stage and add any masala as per taste.
      Making Dough
Pour maida, wheat flour, sooji, salt, ajwain, and oil/ghee in a big bowl and mix very well.
Crush ajwain with palms to enhance the odour of ajwain.
Knead a smooth dough by adding water in small quantities at a time. Keep the consistency of dough the same as roti dough.
Cover this dough for 30 minutes.
After 30 minutes, lightly knead the dough again.
      Main Method
Prepare small balls of the masala with the help of your hands. 
You may sprinkle water drops on the masala if you face difficulty in making balls or if the masala is very dry.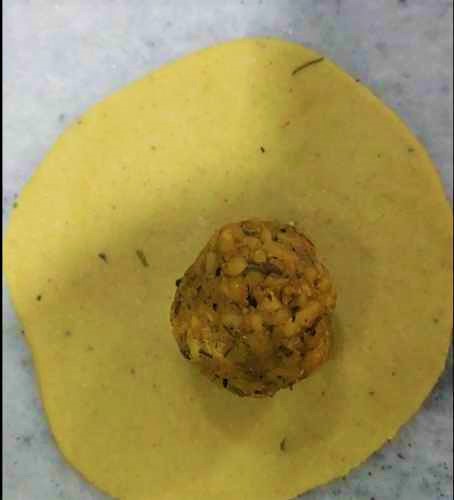 Divide the dough into some equal portions (approximately 10).
Prepare small balls of the dough with the help of your hands.
Roll each portion between your palms to make round-shaped balls.
Now, take one dough ball and flatten it with the help of your fingers.
Fill it with masala balls in it .
Now bring together all the sides to form a potli in the shape of kachori.
The excess dough should be pinched off and removed.
Press and then flatten the top of the kachori.
Now gently roll the kachori with a rolling pin to get kachori of medium thickness.
Repeat the process with other dough balls.
Cover all kachoris with a moist muslin or cotton cloth to retain the moisture.
      Frying Kachoris
Heat oil in a kadai. Deep fry the kachori on medium to low flame.
Cook 3-4 kachori in the kadai at one time.
When kachoris start puffing up, then gently press (nudge) each kachori with a spatula for puffing well.
When the base of the kachori becomes lightly golden, gently turn them over.
When cooked, take out the kachori one by one and place them on a wire mesh (instead of a plate). Wire Mesh will help the kachori remain crispy as it will remove the heat from all sides
Place the kachori on tissue paper to soak extra oil from it.
Serve hot moong dal kachori with green chutney, tamarind chutney, aloo sabzi, or tomato sauce.
Subscribe to our mailing list and get every new recipes directly to your mail box
khasta Kachori Recipe Tips
If you don't want to use maida, you may use wheat flour (200g) instead of maida.
Sprinkle water drops on the masala, if you feel that the masala is dry.
Cook kachori on medium flame otherwise kachori may remain undercooked.
Cooking kachori on the medium flame will make it crispy.
By adding meetha soda in masala, kachoris will puff better.
While rolling these kachoris in the shape of a poori, do not apply too much pressure as this can break the kachoris, which on frying can split the moong dal stuffing in the hot oil.
When the kachori is being stuffed with moong dal filling, close it well so that it doesn't open in the hot oil.
The thickness of kachoris should be medium and not be thin or thick. Thin kachori will become too crispy and get hard. Whereas thick kachori will remain undercooked from inside.
You may prepare a thick slurry of maida with water and keep it aside. While frying, if the kachori breaks, then apply this slurry over the broken portion.