Rava Sheera | Semolina Pudding
Sooji halwa is a famous indian traditional dessert. It is very easy to make.
In southern India, it is known as Rava Kesari whereas in Western India, it is known as Rava Sheera.
Sooji Halwa is prepared with sooji, sugar, nuts and ghee. This halwa can be prepared in a very short time. Generally, sooji halwa is prepared on religious occasions like pooja.
The combination of kala chana, puree and sooji halwa is also used for prasad. Sooji Halwa is also useful for health conscious as it may be prepared in low quantities of ghee.
To make delicious halwa, all ingredients should be in the proper ratio.
Sooji(Semolina)

– 

1 Cup

Desi Ghee

– 

2 tablespoon

Cardamom(Elaichi) Powder

– 

¼ teaspoon

Sugar 

– 

1 Cup

Resins(Kishmish) 

– 

2 teaspoon, Optional
Sliced Almond(Badam tukda) 

– 

1 tablespoon

Coconut Powder 

– 

As per taste

Water

– 2 cup 
Method
Pour ghee in a medium saucepan and heat it.
On light heating, pour sooji.
Fry on low heat and stir constantly.
Sprinkle water drops at some intervals.
At this stage, add all the dry fruits to it.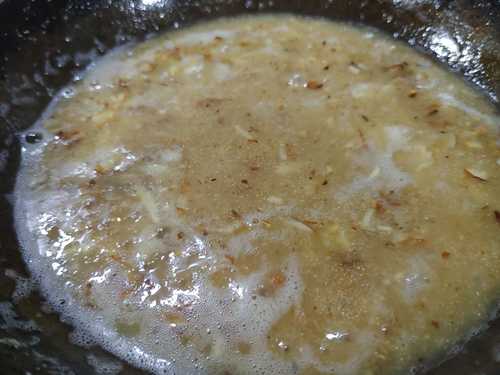 When sooji becomes light brown, pour 2 cups of warm water and stir.
After soaking water, add sugar and stir again constantly.
When sooji leaves the pan surface, switch off the gas and cover for 5 minutes.
Sprinkle coconut powder on halwa.
Very tasty and delicious sooji halwa is ready to eat.
Subscribe to our mailing list and get every new recipes directly to your mail box
which add magic to your recipe!!!
The ratio of sooji to sugar to water should be 1:1:2 (means 1 cup sooji, 1 cup sugar & 2 cup water). However, you can adjust the sweetness as per your requirement.
When water is added in sooji halwa, then bubbles will be created, so be very careful. It is advised to use a pan with a long handle.
Adding warm water to halwa increases its taste.
Do not roast sooji too much. It should be light brown in color.
To give this halwa a rich flavor, milk is added instead of water. The milk used should also be warm.
Sooji should be fried on low flame.
By sprinkling water drops during frying, halwa becomes Khila Khila.
You may also add dry fruits of your choice to enhance their taste.
To enhance its taste to the extreme height, you may add 8-10 saffron leaves in halwa. (Saffron leaves should be soaked in warm water or milk before use).